First Impressions of Fresh Persimmon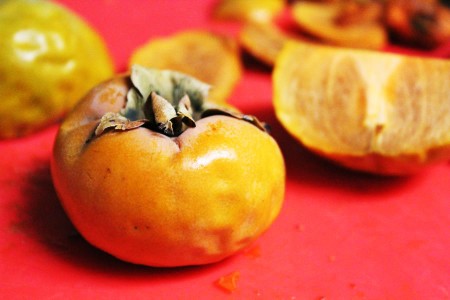 My last few bushels from Farmhouse Delivery have included a fruit I've never worked with before: the Fuyu persimmon. They are a beautiful fruit, arriving in a blended shade of yellow green that slowly turns to yellow orange as they ripen.
A native Asian fruit, the persimmon originally comes from China and was later cultivated in Japan, eventually coming something of a national fruit for the country. Persimmons grow in warmer clients and so are often imported from Asia or Brazil. They're not a common find on grocery store shelves, which made this batch all the more enticing.
Persimmons can be perplexing to those who aren't accustomed to them. It took me a few tries and a bit of experimentation to figure out my favorite way to eat them. My first mistake was trying to eat one while the skin was still green and the flesh very firm. It was fibrous to the point of being off-putting, and the flavor was pretty sour.
Once I'd let them ripen up quite a bit, I tried again, but this time, I bit into a slice as you might an apple. The skin was tough and leathery, and the fruit was hard to pull away from it. I used a paring knife to peel the rest, which was interesting, tangy, soft, and tasty, almost like a figgy kind of papaya. It has a lovely sweetness, a deep honey-sweet that becomes more and more intense as it ripens.
It was difficult to get these persimmons to the perfect point of ripeness. They stayed hard and green for quite some time and quickly progressed from ripe to too ripe, developing spots of mold or rot. One out of the entire bunch became soft and almost custardy as it ripened; the rest stayed pretty firm and crisp.
The best solution I was able to come up with was to cook the fruit down in a Persimmon Piloncillo Syrup, which turned out to be a wonderful way to even out the texture and savor the unique flavor.