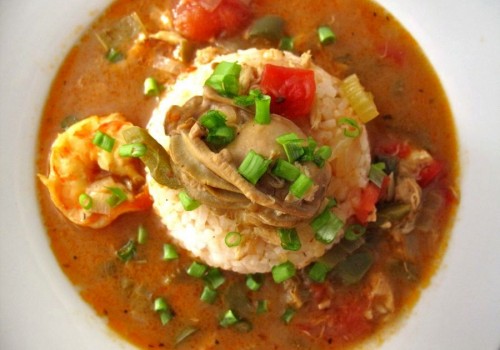 Texas Seafood Gumbo
You don't have to use Texas seafood to make this gumbo; the taste says "Texas" to me no matter what kind of seafood is in it. It's somewhere between the classic, original New Orleans creation and other more stewy Southern gumbos. I didn't add okra, but did throw in a can of stewed tomatoes. Use whole or cracked crab, fish, whatever you like. And if you like it spicy, make sure to douse your bowl with hot sauce.
Texas Seafood Gumbo
---
Yield: 10 servings
---
Cook Time: 75 minutes
---
Ingredients:
1 pound Gulf shrimp, peeled and deveined, shells reserved
1 teaspoon salt
1/2 teaspoon black pepper
1/2 teaspoon dried thyme
1/4 teaspoon paprika
8 cups water
1 medium onion, chopped, skin and ends reserved
4 cloves garlic, minced, skin and ends reserved
1 medium green bell pepper, stemmed, seeded, and chopped, trimmings reserved
1 jalapeño, stemmed and roughly chopped, trimmings reserved
3 ribs celery, chopped, tough ends and leaves reserved
4 tablespoons butter
1 tablespoon extra virgin olive oil
1/2 cup all-purpose flour
1 (15-ounce) can stewed tomatoes, drained
1 (8-ounce) can Gulf oysters, plus their liquid
1 (8-ounce) can lump crab meat, or 2 whole crabs, boiled and broken into pieces
White rice and green onions, for serving
Directions:
As you prep shrimp and vegetables, throw shells, trimmings, odds and ends into a small stockpot with salt, pepper, thyme, and paprika. Cover with water and bring to a boil over high heat. Reduce to a simmer and cook, covered, 30 minutes.
Meanwhile, melt butter and oil in the bottom of a large stockpot over medium heat. Add onion, garlic, peppers, and celery; cook until softened, about 8 minutes. Whisk in flour until smooth. Stir continuously until golden brown, about 12 to 15 minutes. Check the Chef's Table for more tips on making roux.
Stir tomatoes into roux mixture and break up with the spatula. Strain shrimp stock through a mesh strainer or sieve and pour into the soup pot, stirring well. Cook on low, covered, 20 minutes.
Carefully drop peeled shrimp, oysters, and crab into the gumbo. Cook an additional 10 minutes. Serve over white rice and top with sliced green onion.