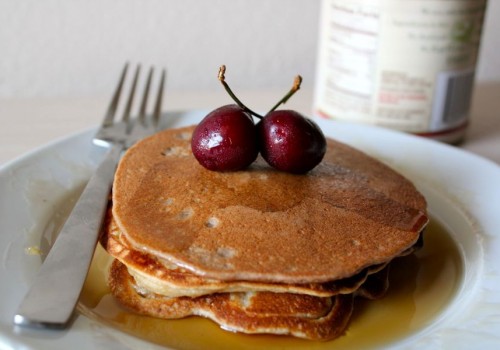 Chocolate Cherry Pancakes
Cherries and chocolate are a match made in heaven. Using fresh cherries and unsweetened cacao powder keeps these breakfast pancakes nutritious with very little added sweetness. Your little ones will love 'em with their favorite syrup.
Chocolate Cherry Pancakes
---
Yield: 6 to 8 pancakes
---
Cook Time: 30 minutes
---
Ingredients:
1 cup pancake mix
1 egg
3/4 cup coconut, nut, or organic milk
1 tablespoon coconut oil
1 tablespoon unsweetened cacao powder (may substitute unsweetened cocoa powder)
8 fresh cherries, pitted and chopped
Directions:
Combine pancake mix, egg, milk, oil, and cacao powder; and blend well with a whisk, until almost all lumps are smoothed out. Fold in cherries.
Heat a thin layer of oil on a skillet or griddle and pour batter on once hot. Allow to cook until bubbles begin to pop on the raw side, then flip and cook another 3 to 4 minutes. Remove cooked pancakes to a plate covered with a clean dish towel until ready to serve.
Note: Cherries can make a great second color if you're playing with pancake shapes, but you'll want to avoid any chunks of whole fruit. Instead, use your hands to squeeze the juice from the cherries into the batter, which will give it a light pink tinge. Adding cacao powder will make a brown batter.