Will Questionable Press Hurt or Help Guy Fieri's Restaurant?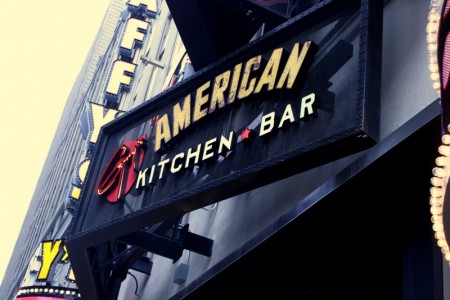 Guy Fieri has opened his namesake restaurant in Times Square, and the criticism has already started pouring in. Not since Paula Deen has a celebrity chef caused so much uproar. The restaurant has been the butt of jokes since construction started on the place, and the jibes have not let up since it opened. The question is, will the disdain of the food community be the downfall of this place, or will all the press actually work in the restaurant's favor?
Some of the biggest food blogs in the city have been covering the opening of the restaurant, predicting the most ridiculous eatery of the season. Midtown Lunch had a writer there on the spot, noting overpriced food, overenthusiastic servers, and over-saturation of expensive merchandise for sale. He calls the $14 burger (the cheapest burger on the menu) smashed and flavorless, saying "I can't eat this… I might need to order something else."  Some Yelpers agreed, saying that the fries were tiny and soggy, the chicken wings tasted rubbery, and the atmosphere was "like a frat party at the lamest frat you've ever seen."
Eater seemed to anticipate such a reaction since the announcement of the restaurant, calling it "kewl" and gleefully noting that there is "no stopping the flavor train." However, not all diners enjoy the rain of snark that food sites are unleashing.
Some website commenters have voiced their support for the restaurant, saying that not all restaurants have to be temples of haute gastronomy.  Times Square is a huge tourist market, and if tourists want a taste of celebrity food, then this place might have a shot. One Yelper spoke in favor of a pasta dish and the triple double pie, calling them heavy but great.
It all comes down to this: will the tourists and the people who like the food be enough to keep the place in business? Or will the disgust of other foodies run it out of town?
Is any publicity good publicity? That's what remains to be seen.
Sources:
Midtown Lunch Team. (2012, September 11). Live from favortown: Guy Fieri's first midtown lunch service. Retrieved from http://midtownlunch.com/2012/09/11/live-from-flavortown-guy-fieris-first-midtown-lunch-service/. (2012, September 12).
Morabito, G. (2012, September 11). Guy Fieri's restaurant has a five star rating on Yelp. Retrieved from http://ny.eater.com/archives/2012/09/guy_fieris_restuarnat_has_a_five_star_rating_on_yelp.php. (2012, September 12).
Yelp. Retrieved from http://www.yelp.com/biz/guys-american-kitchen-and-bar-new-york-2. (2012, September 12).