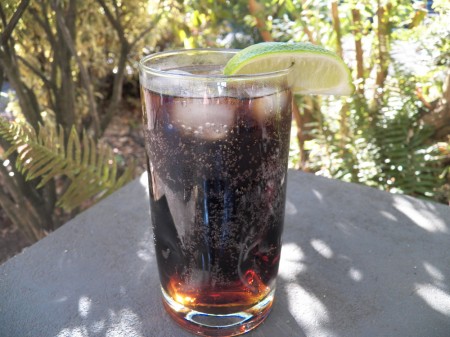 The Cuba Libre is a flavorful, yet simple rum drink with an interesting history. Literally meaning "Free Cuba," this mixture of Coca Cola, Bacardi Rum, and lime is a delicious way to enjoy rum and with a small modification in the style of rum used, can be enjoyed year round.
According to the folks at Bacardi, "The world's second most popular drink was born in a collision between the United States and Spain. It happened during the Spanish-American War at the turn of the century when Teddy Roosevelt, the Rough Riders, and Americans in large numbers arrived in Cuba. One afternoon, a group of off-duty soldiers from the US Signal Corps were gathered in a bar in Old Havana. Fausto Rodriguez, a young messenger, later recalled that Captain Russell came in and ordered Bacardi (Gold) Rum and Coca-Cola on ice with a wedge of lime. The captain drank the concoction with such pleasure that it sparked the interest of the soldiers around him. They had the bartender prepare a round of the captain's drink for them. The Bacardi Rum and Coke was an instant hit. As it does to this day, the drink united the crowd in a spirit of fun and good fellowship. When they ordered another round, one soldier suggested that they toast '¡Por Cuba Libre!' in celebration of the newly-freed Cuba. The captain raised his glass and sang out the battle cry that had inspired Cuba's victorious soldiers in the War of Independence."
Now, there are some people who dispute Bacardi's account of the creation of the Cuba Libre, but I personally think it's a great story and one that I like enough that I continue to use Bacardi Rum in my Cuba Libre cocktails.
During spring and summer months, I prefer a silver rum like Bacardi Superior to mix into my Cuba Libre. It's perfect for the warm weather months, and it creates a drink that is both quenching and enjoyable. Once fall starts though, I switch up to Bacardi 8 Year with its bold caramel and vanilla notes; the richness of this rum holds up better in the cocktail during the cooler temperatures, and I'll happily drink Cuba Libres this way all through the winter.
While I might be stuck in cold Portland, Oregon, a Cuba Libre made with Bacardi 8 transports me to a warm beach in the Caribbean instantly, something that even the quickest airline can't do. For an interesting twist on this classic, try Bacardi Oakheart, a new spiced offering from the house of Bacardi.
The Cuba Libre Cocktail
Makes one cocktail.
Ingredients:
2 ounces Bacardi Superior or Bacardi 8 Year Old Rum (depending on the season and personal taste)
6 ounces Coca Cola
1 lime wedge
Directions:
In a highball glass, add Bacardi rum and ice.
Top off with Coca Cola.
Garnish with lime wedge.
Serve.