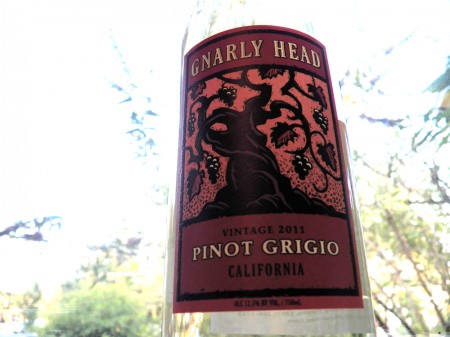 I'll admit that pinot grigio isn't my favorite grape. Too often, pinot grigio (which is the Italian name for the varietal, the French call it pinot gris) is a soft, insipid wine that lacks structure or any flavor profile. It is oftentimes referred to derisively as "training wheels wine," a wine for those who haven't developed enough of a palate to enjoy what are perceived as better wines. Unfortunately, these criticisms of pinot grigio are far too often true. That doesn't make it a bad grape or even a bad wine, but it just means that a lot of the pinot grigio made isn't terribly good. That is why I was rather surprised to get the opportunity to review Gnarly Head Pinot Grigio.
When my sample of Gnarly Head arrived, I opened the box to find a bottle of their zinfandel, which I've always liked (it's the perfect pizza night wine) and a bottle of pinot grigio. My first instinct with the pinot grigio was to put in it the kitchen and use it as cooking wine rather. After all, I'm not a big pinot grigio fan, and did I really need to taste another California variety?
It must have been fate because I forgot the bottle on a back counter, and when my wife came home, she put it where we always put our white wine: in the refrigerator. Once I found it in the fridge, chilled and ready to drink, well, how could I say no? So I popped the bottle and sat down to enjoy it, not really expecting to write a review.
In spite of all of this, I actually enjoyed Gnarly Head Pinot Grigio. Let's be clear: this isn't a wine that is going to change your life, but for $10, it delivers a lot of flavor, being one of the better pinot grigio wines out there. It has nice acidity, and I found notes of nectarine and ripe melons on the bouquet. It is more complex than I expected it to be, and while I drank it without any food pairings, this would be a nice little wine to put next to some spicy Thai food, grilled prawns, or maybe even pork chops.
Gnarly Head Pinot Grigio is the kind of wine that is perfect for a Tuesday night dinner or for when you want a nice glass of white wine that won't break the bank. Try a bottle soon, and perhaps you'll be as pleasantly surprised as I was.
Disclosure: I received a sample of this product from Gnarly Head for review. No other compensation from Gnarly Head was received.