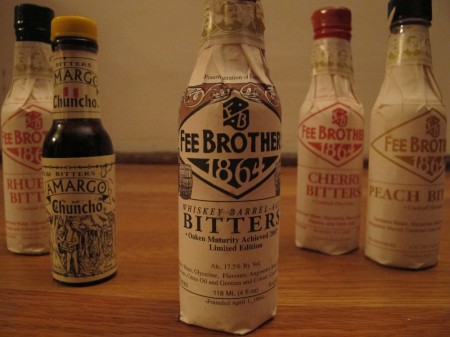 For many years, the only form of bitters available in the United States was the venerable Angostura brand. While Angostura is a classic bitters brand, an essential to any well-stocked bar, the world of bitters is rapidly expanding with flavors ranging from rhubarb and mint to recreations of long-lost brands like Bokers. So, what role do bitters play in drinks? Why are they so popular? And what bitters do you need?
Bitters technically fall into two categories: potable and non-potable. For our purposes, we're going to talk about non-potable bitters like Angostura. Liqueurs like Fernet Branca, Averna, and Jagermeister are considered potable bitters and while close cousins of non-potable bitters, are used in different ways in cocktails.
Essentially, bitters are descended from the earliest forms of distillation in Europe. When distilling technology first reached the continent, education flourished in monasteries, and the study of medicine was still in its early infancy. Monks would gather local herbs and spices and infuse them into a base liquor that was thought to be medicinal. Bitters may not cure major diseases, but if you've ever had a bartender pour you a bitters and soda to cure an upset stomach, you know just how effective some of these concoctions can be.
Bitters play an interesting role in cocktails. Essentially, bartenders use bitters to create depth and complexity in a drink. If a cocktail was a body, bitters would be the skeleton upon which everything else relies. Bitters also help to hide a bartender's flaws in their drinks, which most bartenders are loathe to admit, but if you ever see a bartender mixing up a drink, mulling it over, and then reaching for the bitters, that may be what is happening.
Ultimately, bitters have seen a recent revival in their popularity because they are an easy way to add a unique flavor and complexity to your drinks. Take the Manhattan cocktail. Made with just whiskey and sweet vermouth, it can be a bit flat and one dimensional. However, add a few dashes of Angostura bitters and a few of orange bitters, and a new level of complexity emerges from the cocktail. What might have been ordinary has been transformed into a thing of beauty to sip and savor.
So what kinds of bitters are essential to a home bar? Angostura, Peychaud's, and an orange bitters of your choosing is a great place to start. Better producers include Fee Brothers, Bittermen's, and Regan's. Now, Dale DeGroff, the King of the Cocktail is introducing his own line of pimento (allspice) bitters, and while the bitters space is becoming crowded, new and exciting flavors keep being created. Experiment with some of these, create your own house bitters (it's easier than it seems!), and kick your cocktails up to professional level.