Fig Goat Cheese Pizza Recipe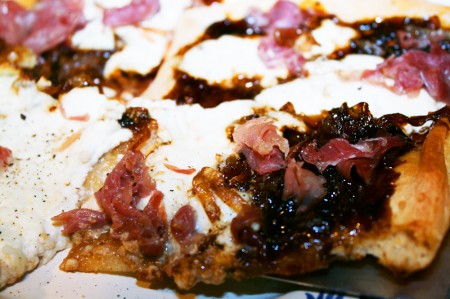 The next time that you are in need of an impressive appetizer, don't look to the takeout menus—look to frozen pizza dough! This is a very easy recipe, and though the ingredients are not cheap or especially common, they make for an incredibly elegant and delicious dish. The tastes are complex and deep – sweet figs, creamy onions, grassy cheese, and salty prosciutto. Feel free to swap out the cheese, jam, or meat for whatever you happen to enjoy or to have lying around! Pair it with a lightly dressed arugula salad for an elegant and indulgent meal for one.
Fig Goat Cheese Pizza
Ingredients:
1 can pizza dough
1 log goat's cheese
8 slices of prosciutto
4 tablespoons of fig jam
2 medium onions, cut into rings
2 tablespoons olive oil
Salt and pepper, to taste
Directions:
Preheat oven to 350 F.
Sautee the onions in a pan with the oil over medium heat until they slowly turn a very mellow golden-brown. These onions should take about an hour. By the time they are done, they should almost have the consistency of jam.
Unroll the pizza dough on a sheet pan covered in tinfoil.
Spread the fig jam on the pizza crust.
Top with the caramelized onions and goat cheese.
Bake in the oven for 15 minutes, or until a knife plunged into the center of the pie comes out clean and hits a crisp crust.
When the pizza comes out, top it with the prosciutto.
Taste for seasonings and serve.