A Recipe to Ring in a Cheap, Frugal New Year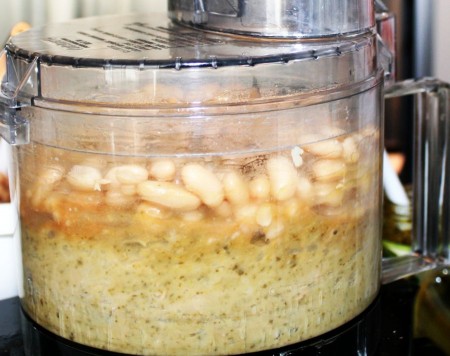 After the holidays, none of us have the money or the inclination to go out to eat. We're poor, tired, and, quite frankly, suffering from palate fatigue. We want simple food that is delicious and comforting. And, if it were healthy, that wouldn't hurt. This Tuscan hummus recipe is perfect for these days: it's cheap, delicious, and the healthiest thing I've eaten all year thus far:
Tuscan Hummus
Ingredients:
2 (15-ounce) cans cannellini beans, drained
3 tablespoons jarred pesto (be sure to find one without nuts if you are serving those with allergies)
1 head roasted garlic
1/3 to ½ cup apple cider or tomato vinegar
¼ cup extra virgin olive oil
Directions:
Dump the beans into a food processor.
Toss in the pesto and garlic.
Add the vinegar. Be aware, you may need up to ½ of a cup of vinegar by the time the hummus is to your liking. (If vinegar is too sharp for your palate, use fresh lemon juice instead.)
 Start the food processor, and slowly drizzle in the olive oil. You won't need much because the pesto has oil in it. Just drizzle a bit in until the hummus becomes a consistency you like.
Transfer to a container and refrigerate the hummus for at least 3 hours, or up to overnight. Taste for seasonings before serving, and add more pesto, oil, or spices as you see fit.
Serve.
This hummus is a showstopper. I serve it with a drizzle of chile-infused olive oil on top, but it is delicious just on its own. The beans are creamy and mild, and the roasted garlic adds the deepest, sweetest flavor to the dip. The jarred pesto is the genius of this recipe. Two little spoonfuls and you get the most incredible, unmistakably Italian flavor of sharp Parmesan cheese and earthy basil. The vinegar is the kicker here—its brightness and acidity adds another dimension to the hummus.
And that's how you kick off a thrifty, healthy new year.