Plastic Cutting Mats: Easy Clean-Up and Chopping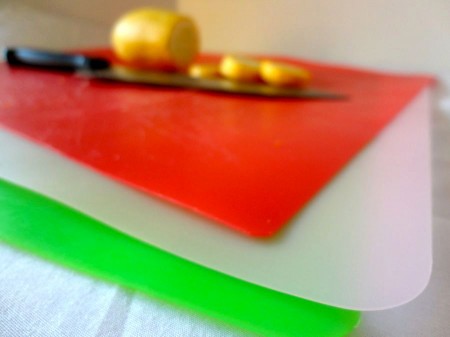 A good cutting board makes a home cook's life so much easier.
If you've ever tried to get busy with one of those tiny little things that often come in furnished apartments or hotel rooms and are barely big enough to fit a chef's knife, you'll know what I mean. Your elbows are bowed out at awkward angles; you've got pieces of meat or produce falling off the edges and juices running down the front of the cabinet—it's a testament to grace and patience.
The best cutting boards, of course, are made of a good, sturdy slab of wood. But today I'm giving the spotlight to their light, colorful cousins—plastic cutting mats, which I've affectionately dubbed "flexi-mats" on account of their ability to flex and bend every which way.
"But Katie," you might say, "I thought you told us to get rid of plastic in the kitchen!" Yes yes, you got me, I do tend to be anti-plastic when there are other options. But there are certainly exceptions to that rule, and for me, this is one of them. Not so for The Kitchn— they kick plastic cutting mats to the curb because they hold onto more bacteria (a fair argument, to be sure).
Plastic cutting mats are disposable, but also washable, and work for more than one-time use. To make sure yours are kept nice and clean, disinfect them thoroughly after each use and toss them if the surface breaks in any way. Mine usually last for a month or two before they're chewed up, scored, and/or eventually cut through (oops).
There are lots of reasons I keep a set of plastic cutting mats around. First and foremost, they're much more agile and portable than my trusty wood cutting block. If I'm going camping or cooking at a friend's house, I reach for what's easiest to pack and carry.
They also make clean-up a snap. If I'm working with a particularly messy ingredient like fresh pineapple, I choose my flexi-mat because once all the fruit's put away, I can fold each end of the mat toward its center, tilt it to drain the extra juice into a glass, and then carry it all over to the compost bin or trash can and dump the outer bits without having to get sticky. If I'm feeling especially lazy, I can even stick it in the dishwasher.
This curling action also helps when transferring your prepped ingredients into a bowl or pan, and cuts down considerably on what ends up on the counter or floor. I've even used one as a funnel.
Which is another cool perk. My mom gave me the idea of labeling the different mats in a pack for things you wouldn't want mingling—one mat for onion and garlic, another for meat, and another for produce, for example.
They're usually about $5 for a pack of three.