How to Make Pancake Shapes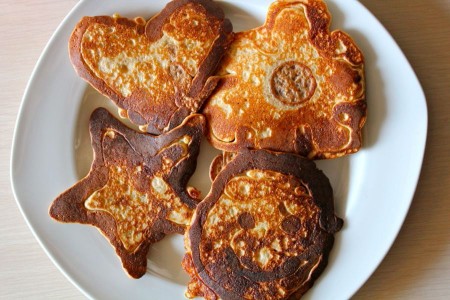 Pancakes offer endless breakfast fun. Aside from their classic circular form (which we spent some time perfecting a while back), they can take a million other shapes. The free-form flexibility of pancake batter allows you to squeeze, stamp, and sculpt it any which way you can dream up.
When I was a kid, the farthest we ever really got with pancake shapes were the first letters of our names, which was a pretty cool switch-up from the flapjack stacks we were used to. It wasn't until I was babysitting for my kid siblings recently that pancake imagination really got the best of me. They were requesting ponies and transformers and princesses while my messy pour-spot was doing its best to eke out a straight line.
In reply to a Facebook post recounting my clumsy first foray into pancake art, a few friends threw out a genius suggestion: Use a squeeze bottle. Some had cleaned out and reused ketchup or mustard bottles; others had purchased specially-designated batter bottles. A simple solution, and one that works wonders.
After my first somewhat-discernible buttermilk dolphin and Hello Kitty, I really thought I had these pancake shapes owned. That is, until I found JimsPancakes.com. There's no sugar-coating it, this guy puts us all to shame. Jim is just a dedicated dad who spends a lot of time with a squeeze bottle, fun colors, and a hot griddle. He's graduated from cool characters and holiday shapes to full-on 3-D renditions of animals, spaceships, and Star Wars craft.
Jim has a ton of good tips for making pancake shapes on his website (and a cookbook featuring 75 of his best creations). Here's a few I've picked up during my short stint in pancake shape-shifting:
Beware of bumps, lumps and other potential clogs. My favorite oil to use in pancake batter is coconut, which tastes great but has a pesky tendency to solidify when it gets cold. When you're using a squeeze bottle with a narrow tip, it doesn't take much for it to clog up, which can ruin your shapes. Multi-grain pancake mix and other fillings like fruit and chocolate chips aren't the best match for the bottle.
Get a sturdy bottle with a snug-fitting lid. Nothing's worse than squeezing away on your most perfect smiley face ever when your lid suddenly comes loose and batter bursts everywhere. Make sure your lid screws on tight and that you're not applying too much pressure or trying to squeeze your way past a clog.
Let your outlines and highlights sizzle. The best way to add color contrast to your shapes without juggling different bottles of colored batter is to squeeze out your outline and details first, let them get nice and brown, and then fill in the rest. When you flip your pancake, the stuff you did first will be dark brown, while the middle will be a lighter golden brown.
Take your time and have fun! Pancake shapes are NOT the best bet for a chaotic morning when all you want to do is get the kids fed and the day started. You should set aside a good hour to play and experiment, mess up, and start over. Be ready to make the best of wrinkled piles of failed soccer balls or shooting stars. They still taste great with butter and syrup!