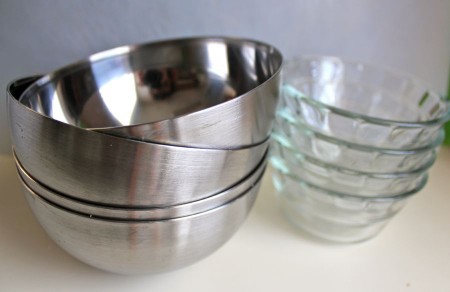 Earlier this week, we talked about prep or mise en place, a step that many home cooks skip at their own peril. If you're reconsidering the prep step and ready to give it a try, it's time to invest in a good set of prep bowls.
Prep bowls? But I already have cereal bowls and soup bowls and mixing bowls and salad bowls, and plus, didn't you say that the all-purpose ramekin could do that? Yes, it's true: you can certainly get by without a special set of designated prep dishes, but I still recommend them.
Why? Because you use your bowls and ramekins for many other things. Too many times—and I say this from experience—you will be all ready and rearin' to go, chopping away or carefully balancing your perfect teaspoon of spice, only to find that your entire set of bowls is in the dishwasher or that you forgot you used your ramekins to make pudding in or that you're already using that prime glass dish to soak cashews or marinate chicken. It is in these "d'oh!" moments that a nice set of prep bowls saves the day.
You don't need anything too fancy, and you don't have to look too far. Any big-box kitchen or home store will have a set of small bowls you can use to prep—in fact, you can even find them at discount department stores like Ross or Marshalls. My mom found the stainless set she gifted to me (pictured) at IKEA.
A few words to the wise when selecting your set: First, choose an all-purpose, nonreactive material. Stainless steel would be my number-one recommendation, followed by glass or ceramic. Stay away from plastic.
Second, look for bowls that are bigger than ramekins but smaller than cereal bowls, about an 8- to 10-ounce capacity. This midway size is a perfect in-between for little tidbits like a few teaspoons of spice as well as a whole chopped onion or pepper. If they come with lids, that's even better—you can keep your stuff sealed and fresh until you're ready to cook.
Third, make sure that the bowls sit flat and square and won't wobble or tilt with a lot of weight added. This seems kind of like a no-brainer, but I have to put it out there because it's the one drawback of the set I have, and it's a major one. My bowls sit just fine on their own, but once you start filling them up and moving them around, their rounded bottoms make them rock and tilt and spill and all sorts of other mischief.
Need some examples? This set from Williams-Sonoma is beautiful, but frankly preposterous at $35 for four. Here's a much better deal for a variety-pack of different sizes for only $9. Paula Deen makes these cutesy enamel bowls, $15 for a set of three, which isn't too bad—no lids, though. There are lots of options online.
I may be old-fashioned, but I recommend you really check stuff out in person and feel them in your hands before you buy. I bet you could find an awesome bargain if you did some digging in the "home" aisle at Ross. Or maybe in your grandma or auntie's old dusty cupboard. My dad's got a jackpot of dishes he doesn't use anymore in the garage. Not that I advocate stealing from family members… And on that note, it's time to go. Happy hunting!