Full Flavor on a Cedar Plank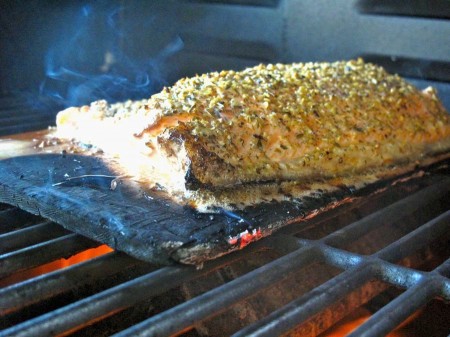 I've often seen cedar plank salmon on restaurant menus, but never had the chance to grill on a cedar plank until my friend Melissa picked one up at the store last week.
Cedar planks are really nothing more than that: a simple, untreated piece of wood, many times available plastic-wrapped in small, thin slabs in the outdoor cooking or kitchen section. The kind we got came with two slabs for $8.
While I'd always thought of cedar plank grilling as a fancy, mod cooking method, I came to learn that it is in fact a traditional method among Pacific Northwesterners that dates back a few thousand years.
Soaking the plank for an hour or two before you grill helps lock in moisture and prevents the wood from catching fire as you grill (we were in a hurry and skipped this step, so we had to put out some peripheral flames a few times while cooking). While plain or salted water will do the trick, you can also make a solution with fruit juice or cider, wine, or other flavoring agents to accent and complement the flavor of the wood.
Grilling on a cedar plank lends a smoky, earthy, sweet flavor, and doesn't require any flipping. It also keeps your grill nice and clean and makes for a great outdoor presentation.
Make sure to keep your lid closed while grilling on a cedar plank to maintain your temperature and smoky flavor. It's also best to grill over indirect, medium heat, and to keep a water bottle handy to put out any corners that catch fire.
Planks can typically be used two or three times, depending on scorch and wear. Since we didn't soak ours, it was pretty toasty by the time we were done with our salmon. If yours is still mostly intact after first use, crumble any burnt parts away and use them as coals, and wash with soap and water before your next use.
While cedar planks often go hand-in-hand with salmon, you can use them for other fish, poultry, game, steaks, even stuffed portobellos or grilled fruit skewers.
Check the "Recipes" section later this week to put all this talk of cedar planks and fresh mango flowers  to good use with our Cedar Plank Salmon With Fresh Mango Salsa.