Dos and Don'ts of Cast-Iron Cooking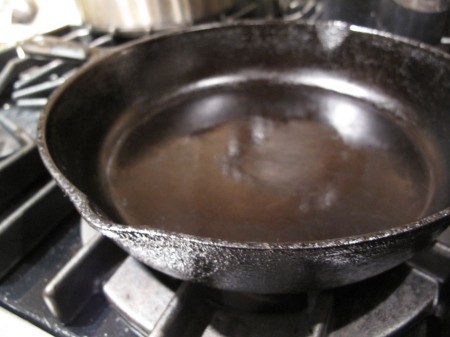 Like any good Southern girl, I love cast iron. The benefits of using cast-iron cookware are many—its unmatched durability, the naturally nonstick, the seasoned surface, and the trace amounts of iron added to your meal—but the special steps and considerations you have to take are just as numerous.
This creates a sort of love-hate relationship for some, my beau included. He knows all that yadda-yadda about how great cast iron is, but sometimes he wishes out loud that we just had some nice, artificial Teflon that we could throw in the dishwasher. I love them dearly, my cast-iron skillets, my hefty dutch oven, my coveted cornstick pan—but there's no denying it, they're a high-maintenance bunch.
Here's a quick guide to the major dos and don'ts of cast-iron cooking:
Do thoroughly season your piece before cooking with it. Curing the factory-state iron with a hot grease bath prevents rust and over time, builds up a slick, nonstick cooking surface. Click here for a full-length guide to the seasoning process.
Don't use metal utensils with cast iron. They're too tough on that fragile seasoning and will scrape it away. I always reach for wood. If you don't have a wooden spoon or spatula, silicone is fine as well—just don't let it sit on the hot surface for too long.
Do give your cast iron extra time to heat up, then, once your desired heat is reached, turn it down slightly. Cast iron is fantastic at holding onto heat, but it can also overheat easily. When I'm making pancakes, I make one or two on medium and then have to turn it down to medium-low to maintain that golden brown.
Don't boil liquids in cast iron; this also compromises the seasoning layer. If you're making a pot of soup or beans, reducing down a sauce, boiling an egg, and so on, use a stainless, aluminum, or copper pot.
Do use your cast iron for pan frying, refrying, baking, scrambling, sautéing, pan-searing, and stovetop roasting (this list is by no means exhaustive).
Don't, under any circumstances, scrub your cast iron with soap and a scouring pad or throw it in the dishwasher. I broke this rule once as a kid, and I'll never do it again. There's no faster way to ruin your hard-earned seasoning than to wash it off. A quick rinse and a wipe-down with the soft side of the sponge is OK, as long as you dry it completely.
Do use a paper towel to wipe away leftover grease and debris after your pan has cooled slightly. If you've got some gunk that's really stuck on there, keep the piece over medium-low heat and pour in about a teaspoon of coarse salt. Use the paper towel to scrub your problem spots, then dump everything into the trash.
Don't leave your cast iron wet or dirty. Stuck-on food bits mess up the seasoning, and any lingering moisture will cause the broken seasoning layer to allow rust in. If you do happen to let your baby rust (happens to the best of us), here are some tips for cleaning her up.