Hip-Hop's Favorite Food, Part II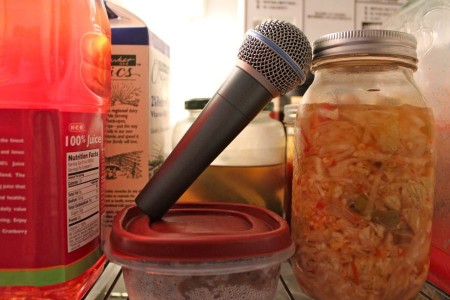 Last week, we kicked off a series of lyrical eats with sardines (hey!) and grits. Props to the homie Andrew Seltzer for pointing out a very obvious omission from that post: Mos Def on "Universal Magnetic": "My name is Mos Def this is good as it gets/ Baby I make you rub yo mitts like sardines and grits."
Z-Ro the Crooked wrapped up (rapped up?) the first part with his line on a free man's breakfast "back in Screwed-Up Texas," a T-bone steak and eggs. Today, we pick right back up with…
Steak.
A good steak is a luxury. A great steak is a privilege. And in the South, we can't talk about steak without a nod to the almighty chicken fried steak, sometimes simply known as CFS.
Z-Ro wasn't the only one to evoke that iconic steak, the T-bone. A friend told me Young Jeezy says that he'll "cook you faster than a T-bone from Ruth's Chris" on "That's How Ya Feel," but with all due respect, I'm not a Jeezy fan and couldn't get through enough of the track to verify. I'll take his word on it.
Biggie also mentions the T-bone on "Big Poppa," saying, that he wants to "fill [his] belly/A T-bone steak, cheese eggs and Welch's grape," which is especially awesome because of the inferred rhyme at the end (belly/grape jelly).
On the David Banner track "Like a Pimp," Lil Flip uses surf-and-turf as a status symbol: "I suppose they like the way me and Banner pimp/You can catch us at Pappadeaux, eatin' steak and shrimp."
And on "Houston Hard Hitters Volume 6," Tow Down has an entire track called "Chicken Fried Steak" (this version is slowed and chopped), featuring Slim Thug, Bun B of UGK, and the late H.A.W.K. The song begins with Tow Down saying, "Chicken fried steak, a Southern delicacy…check the recipe" and goes on to include these goodies from Slim Thugga:
"My steak be chicken fried, my plate be Texas-sized/They see our belt buckles and say that we country-fied."
"We bang our flows low-down in that Lone Star State, with hashbrowns and eggs with our chicken fried steak."
…and Bun B on the hook, hilarious and dead serious:
Straight out the oven baby, cooked up and love it baby/ It's strictly Southern baby, chicken fried steak/We got it smothered baby, in gravy covered baby/ You gotta love it baby, chicken fried steak/ We hold it down baby, all over town baby/ It's golden brown baby, chicken fried steak/ So if you swangin' baby, on corner hangin' baby/ Peep what we slangin' baby, chicken fried steak
The biggest foodie of them all is clearly H.A.W.K. His rhymes'll darn near get you droolin'.
"Southern pride, Southern fried, mashed potatoes, dirty rice/ Cajun spice, and a Sprite, got it tastin' juuust riiiight."
"Me, Tow, and Slim Thug, us country boys, we gotta eat/ Corn bread and mustard greens, good 'dro and a pint of lean/ Finish it off with an apple pie with a little whipped cream."
Those are all the straight-up steak references I could come up with although I'm sure I've left some out. Steak brings us awfully close to one of the most commonly referenced foods in hip-hop…
Beef.
As you very likely know, "beef" means trouble. I'm not sure where the term stems from, but it's used to denote a conflict or feud with someone, usually another MC. If you're interested in details, check out Biggie's "What's Beef," wherein he lets you know exactly what it is and how deep it can get.
References to beef in rap lyrics are plentiful, way more than I could list in one post. Here are a few general mentions:
In "Beef Rapp," MF Doom infers both the metaphorical and literal meanings of beef: "Beef rap could lead to getting teeth capped/ Or even a wreath for Ma Dukes on some grief crap/ I suggest you change your diet/ It can lead to high blood pressure if you fry it."
Talib Kweli keeps it poetic with this line from "Back Up Offa Me": "Tried to tell you not to … with these debutantes/ That's more Kobe beef than Japanese restaurants."
In "Beef and Broccoli," a simple spoken-word track, Immortal Technique serves up his typical, searing version of the truth in a rant about preaching or pushing dietary choices on others. "I like a lot of vegan cuisine," he says. "But the illogicality of expecting everyone to adapt to your particular idea of what being healthy is is just preposterous."
In the classic De La Soul joint "Bitties in the BK Lounge," they're really just talking about getting at girls in the Burger King. The song begins with some adlibs about Cap'n Crunch, followed by this line: "Well, it was a Wednesday, me and Boss Hog was kinda hungry/ Like two eggs, and a slop beef, slice of lettuce/ And a glass of milk and some cookies."
And last but not least, a shamelessly biased inclusion. My man, Bernichus, threw this silly little line onto his solo track "Patience": "I keep it organic, like boiled beef/ Squash all that static, like dryer sheets." It is nonsensical, yet inconspicuously clever, by first using the literal meaning of beef, and then inferring it metaphorically in the second bar. Classic Bern style.
And until next time, that's all, folks.